Do you want more than just the latest templates? Here's 3 reasons why we like TemplateMonster.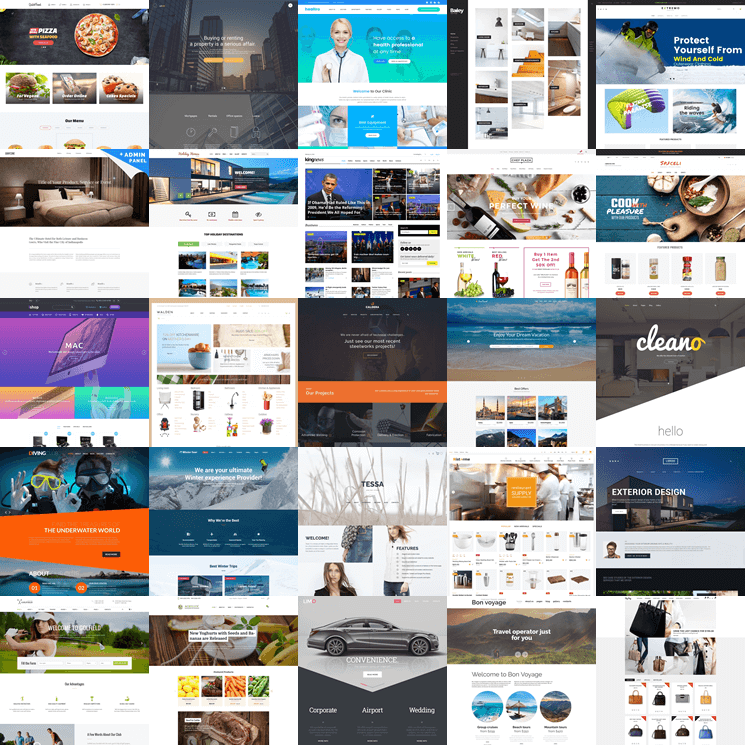 "Do not judge a book by its cover."
That is probably one of the most useful mantras to live by. Yet when it comes to building better websites, the complete opposite applies. You want a beautiful website that conveys your message and shares your passion.
Whether you like it or not, website visitors judge your brand based on the overall look and feel of your website.
By and large, the visual representation of your online business says a lot about your brand. The story you communicate online – through your carefully chosen content and visuals – will have a profound impact on your conversion rates. Your choice of layout and design will most likely be one of the prime reasons why your leads will trust you and not your competitors.
For this reason, it's vital to choose appropriate themes/templates for your websites.
So where do you start?
Introducing TemplateMonster
As one of the largest and most popular website template marketplaces, TemplateMonster is your one-stop shop when you're looking for the right templates to use.
With more than 26,000 ready-made templates to choose from, TemplateMonster currently holds the largest online library of themes and templates for HTML5, eCommerce platforms, and Content Management Systems (CMS). These include platforms such as WordPress, WooCommerce, Joomla, PrestaShop, Magento, Drupal, OpenCart, Shopify, and many others.
Here's a glimpse of what you'll find inside TemplateMonster:
· 1250 WordPress themes
· 1000+ Joomla templates
· 4000+ HTML5 templates
· 480+ Drupal themes
· 200+ Landing page templates
· 350+ Magento themes
· 1100+ PrestaShop themes
· 640+ OpenCart templates
· 250+ Shopify themes
This large assortment of templates also comes with original plugins and extensions for these platforms to ensure that the themes work exactly as they should. If you're like me and thought that TemplateMonster only offered templates – then think again.
More than Just a Library of Templates
Since 2002, Template Monster has served more than 5 million customers. It's vision is to make website design easy for web developers and non-developers alike by providing pre-made templates and themes at an affordable price.
In an interview late last year, TemplateMonster CEO David Braun shared that their business goal is to create a unified A-Z ecosystem – whereby anyone interested in web design and development can find all the information required to start building a website from scratch, optimize their online business through the latest trends in digital marketing, or simply improve specific skills. Put simply, the company will go beyond offering templates.
What We Like About TemplateMonster
Besides their massive collection of templates and themes for various platforms, the TemplateMonster crew also provides all the information required to kickstart any type of online business through their design blog, Startup Hub, and Template Help sections.
Here are the top 3 reasons why we like and recommend TemplateMonster:
1. Assemble Your Own Web Development Team with TemplateMonster's Web Studios Catalogue
So, you have chosen your template from TemplateMonster's extensive catalogue. However, you do not have a freelancer who could help you build the site. With their newly-launched Web Studios Catalogue, you can hire vetted web development professionals without doing the recruiting process yourself.
Launched last December, the Web Studios Catalogue aims to assist TemplateMonster customers in finding qualified freelancers and design studios who specialize in template customization.
To qualify for the list, these website professionals have to successfully complete TemplateMonster's certification. You can expect to find only freelancers and teams with high level of expertise in customizing WordPress, Joomla, OpenCart, PrestaShop, HTML5, Magento, Drupal, and Moto CMS themes.
If you prefer to work with local freelancers, you can filter your search by country, city and CMS platform. On top of that, the listing includes a ratings chart indicating a freelancer or agency's reliability. Freelancers are also ranked according to number of sites they've completed.
2. Flexible and Easily Customizable Templates
All TemplateMonster themes and templates are highly flexible and easily customizable. If you want something unique for your brand or business, you can request for your template to be customized and have it done within 24 hours through their Service Center. In addition, TemplateMonster's support team is available 24/7.
According to the company's COO Demetrio Fortman in an interview, their latest themes come with a customization module to make the editing process a breeze if you want to do it yourself. These include the MotoPress editor, Live Customizer, or TM Drag-and-Drop Layout Builder.
3. Ready-Made Templates are Built For Marketing Optimization
The majority of TemplateMonster's templates are already optimized for any type of marketing effort that you are planning to embark on.
For instance, their newly-released templates are already built with well-structured layouts that help improve overall user experience and seamlessly guide website visitors to your desired action – ie sign up for your newsletter, join your next webinar. Online chat, testimonial sections, and social media integration are also readily incorporated in these templates.
Adapt to the Web's Ever-Changing Trends
The tools and techniques used to build better websites are changing at a rapid pace. The template and plugins you're using two years ago may not give you the same results today or they may convert poorly. The good news is that template marketplaces like TemplateMonster can now help you adapt to these changes and keep your website updated to the latest trends.